FEATURES & HIGHLIGHTS
FOCUSED ON WHAT MATTERS
FactoryCat's MAG-HD Industrial Strength Floor Scrubber has earned a reputation for exceptional toughness and cleaning performance. The Magnum HD combines their historic cleaning ability with improved agility and operator productivity. Factory Cat floor care equipment thrive in metal fabrication facilities, car dealerships, machine shops, food and beverage packaging and distribution centers, and any application that needs a floor cleaning machine that can meet and exceed their expectations.
SPECIFICATIONS
FACTORY CAT MAG-HD SCRUBBER AT A GLANCE
Manufacturer:
Class:
Run Time:
Up To 5.0 Hours Battery Life
Solution Tank Capacity:
Recovery Tank Capacity:
Productivity (Theoretical):
31,915 sqft
Productivity (Practical):
14,851 sqft
Size (L x W x H):
55" x 26" x 40"
Weight (w/o) Batteries:
441 – 481 lbs
System Voltage:
24 VDC
Standard Battery:
315 ah WET
Power:
.75 hp
Tank Material:
Poly 3/8"
Country of Origin:
*Exact specs may change without notice, or vary based on optional add-ons and features.
MACHINE OVERVIEW
STANDOUT FEATURES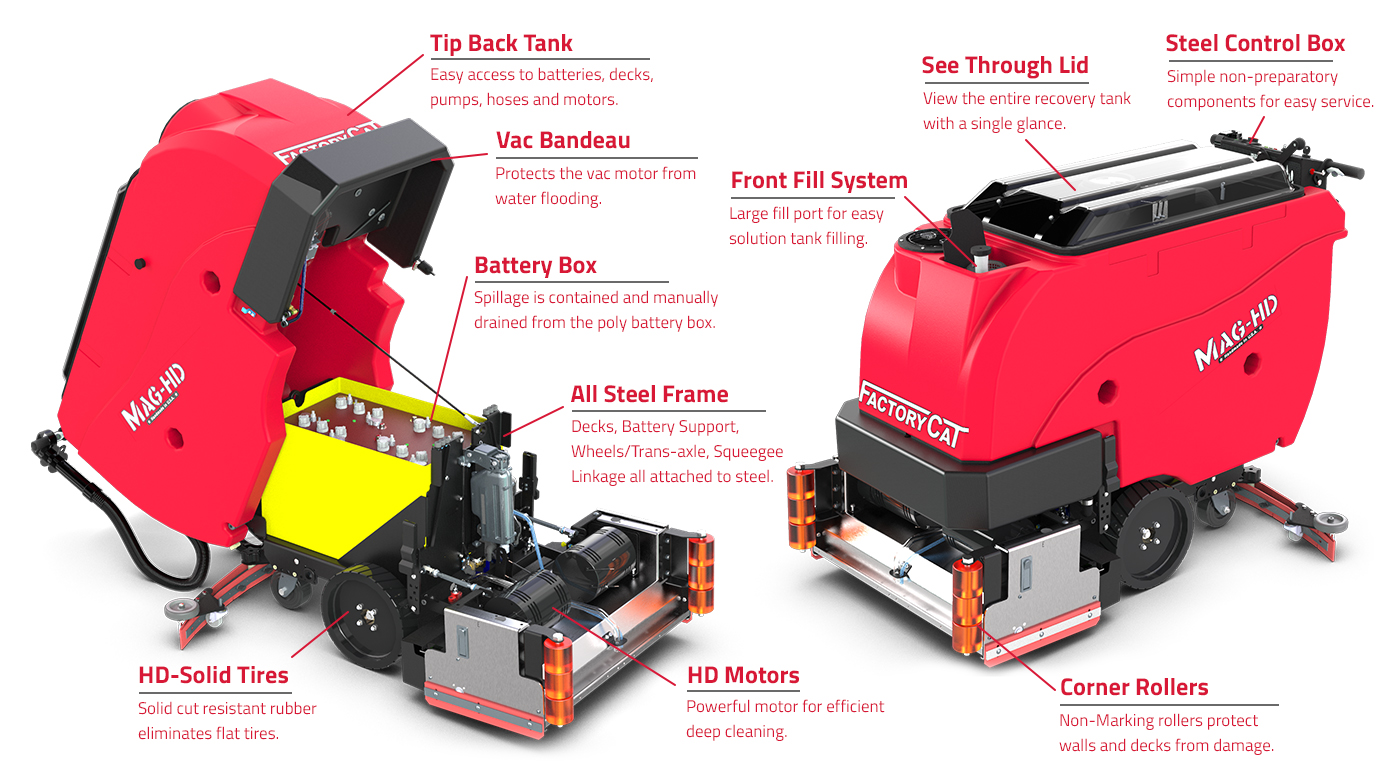 FACTORY CAT MAG-HD BENEFITS
TO MAKE YOUR LIFE EASIER
29″ to 34″ scrubbing path
35 gallon solution tank
Clean up to 170,000 sqft per charge
The Central Command II center includes an LCD screen, on-board diagnostics, and hour meters
The Mag-HD has curtains and wipers to effectively control water flow
---
AVAILABLE SCRUB DECKS
CHOOSE YOUR TYPE OF CLEAN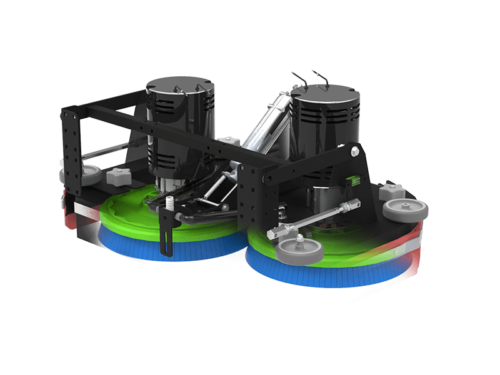 Mag-HD Disk Deck
Brush / Pad Selection
Lowest Maintenance Cost
Gimballed Drivers Improves Cleaning On Irregular Floors
Brushes Individually Driven For Unmatched Performance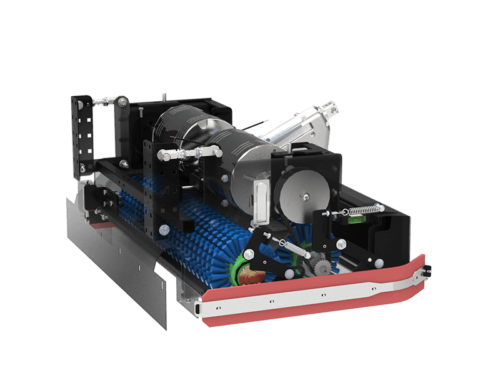 Mag-HD Cylindrical Deck
Eliminates Dust Mopping
No Pre-Sweeping Required
Scrub & Sweep Simultaneously
Superior Expansion Joint Cleaning
---
DOCUMENTS
FOR THE FACTORY CAT MAG-HD SCRUBBER