What is MS4 and why is stormwater pollution control important?
Municipal Separate Storm Sewer Systems (MS4s) are sewer systems which transport home wastewater separately from storm runoff water. Due to the structure of MS4s, it's necessary to implement measures to reduce storm drain water pollutants including organic debris, litter, oil, sediment, and construction site runoff. In nature, rain water would naturally be filtered through the ground. However, now that roads and urban sprawls cover much of the landscape, water is prone to flow faster and pick up more debris along the way. Without stormwater pollution prevention programs in place, water runoff can and will over-saturate natural bodies of water with pollutants which directly harm wildlife, or which cause indirect harm with algal blooms, changes to the ecosystem, and flooding.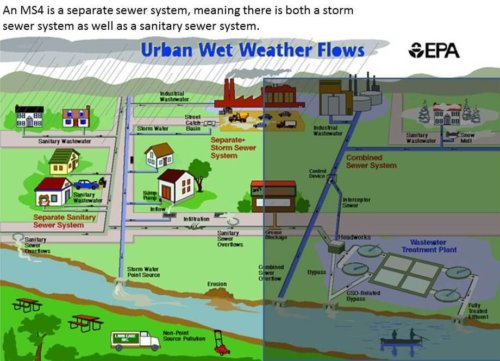 MS4 example on the left – (Image source: facilities.et.edu)
---
How do street sweepers control water runoff pollution?
Street sweepers don't just improve an area's appearances; they also collect solid debris before it can be washed down the drain and into rivers by rainwater. That said, merely sweeping without a plan won't achieve all of the potential benefits that street sweepers have to offer.
Which type of street sweeper is best for our MS4 program?
Generally speaking, there are three varieties of street sweepers, categorized by their collection method.
---
Mechanical Street Sweepers


How's it work?
Sweeper brooms push and fling debris under the sweeper vehicle and onto a conveyor / elevator apparatus which lifts it into the hopper.
How effective is it?
Mechanical street sweepers are just fine for picking up leaves, litter, and larger debris, but they aren't your best option for keeping fine dust and sediment off the road. They'll keep your streets looking nice, and they do offer some pollution-reduction benefits, but they aren't designed to collect the tiniest particles.