Citing operational support costs and declining customers and profit margins, Tennant Company announced the discontinuation of its Sentinel outdoor vacuum street sweeper and All-Terrain Outdoor Vacuum (ATLV) during its Q3 2019 Earnings Call on October 30th. This slimming of Tennant's product lines follows a similar discontinuation from Q2 where it dropped the Green Machine sweepers and Orbio chemical dispensers from its catalog. During its Q3 call, the company detailed that its second strategic pillar specifically focuses on "reducing complexity and building scale across [its] products and operational and business processes." In saying so, Tennant has all but confirmed that additional product discontinuations will follow in the near future.
1, 2
This change in offerings will require its existing customers and potential new customers to find alternatives to the Tennant Sentinel Street Sweeper and ATLV, among other Tennant products. Furthermore, prospective Tennant customers may find themselves wary about buying a product which is liable to be discontinued at any time. It appears that Tennant Company will continue to increase its focus on its biggest sellers and most profitable products, such as its autonomous robot floor scrubbers, and, in doing so, gradually strip the less profitable items from its catalog.
Tennant Sentinel Outdoor Street Sweeper Alternatives
Dulevo D3 Street Sweeper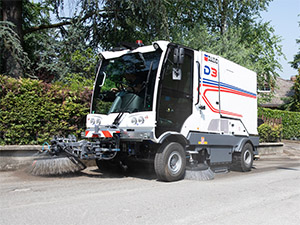 The Dulevo D3 is a purpose-built street sweeper of relatively compact size that's able to navigate narrow streets and obstacles. Its components are built to have accessible parts that are easy to maintain. Another plus is its wide windows for excellent driver visibility. For fine particle and silica dust control, GORE filters are available which are rated for 99% filtration of PM10 particles. The Dulevo D3 also has an optional third broom which can be controlled to reach in any direction for greatly extended reach and access to small nooks and crannies.
More Details
Dulevo D6 Street Sweeper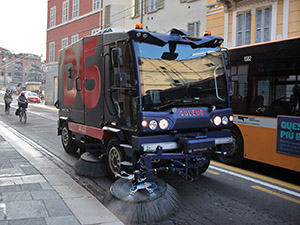 The Dulevo D6 has options for the same PM10 fine dust filtration and articulating third, front broom as the D3. Once again, high driver visibility and parts accessibility are top-of-the-line here. Compared to the D3, this model beefs up everything: a wider sweeping path, larger hopper, and higher dumping.
More Details
Technical Specification Comparison
| | Tennant Sentinel | Dulevo D3 | Dulevo D6 |
| --- | --- | --- | --- |
| Sweep Path Options | 69″, 87″, 126″ | 50″, 85″, 125″ | 51″, 110″, 142″ |
| Hopper Capacity | 3.4 yd3 | 4.3 yd3 | 8.1 yd3 |
| Water Tank Capacity | 94 gal | 105 gal | 105 gal |
| Dump Height | Low: 40″, High: 114″ | 61″, 68″ | Low: 45″, High: 95″ |
| Power Source | Diesel | Diesel | Diesel |
| Max Speed | 25 mph | 24 mph | 26 mph |
| Details / Purchasing | Discontinued | Details / Buy | Details / Buy |
Tennant All-Terrain Outdoor Vacuum (ATLV) Alternatives
Dulevo 850 Mini-Sweeper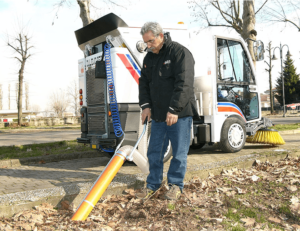 This compact sweeper is ideal for cleaning bike lanes and pedestrian paths. For its size, it has impressively large debris hopper and water tank to minimize stops for dumping and water refills. It has a symmetrically situated cabin and large windows which provide very high visibility for the driver. The Dulevo 850 has an optional vacuum hose accessory to give it functionality that is similar to that of the Tennant ATLV.
More Details
Dulevo D.zero2 100% Electric Mini-Sweeper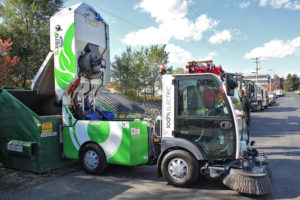 Similar to the Dulevo 850, the D.zero2 brings the same size advantages, maneuverability, and even bigger hopper and water tank capacities. Its real claim to fame is being a 100% electric sweeper with zero CO2 emissions and zero harmful gasses. Its electric motor also means that it runs extremely quietly and provides long-term savings in fuel consumption and maintenance costs.
More Details
Technical Specification Comparison
| | Tennant ATLV 4300 | Dulevo 850 | Dulevo D.zero2 |
| --- | --- | --- | --- |
| Sweep Path Options | 48″ | 59″, 72.8″ | 68″, 125″ |
| Hopper Capacity | 110 gal | 211 gal – 264 gal | 553.5 gal |
| Water Tank Capacity | Volume not listed | 52.8 gal | 58 gal |
| Dump Height | Manual Dump | 4.6 ft | 4.75 ft |
| Power Source | Diesel | Diesel | Electric (Li Fe PO4 Battery) |
| Max Speed | 16 mph | 18.6 mph | 15.5 mph |
| Details / Purchasing | Discontinued | Details / Buy | Details / Buy |
---