The Aquatech Advantage
It's no secret that there are a lot of sewer jet/vac cleaning trucks on the market. With plenty of designs and features that are repeated from company to company, it takes something special to stand out from the crowd. Aquatech and their vehicles do a great job of differentiating from their competition by adding a significant number of quality-of-life and performance features that aren't found elsewhere.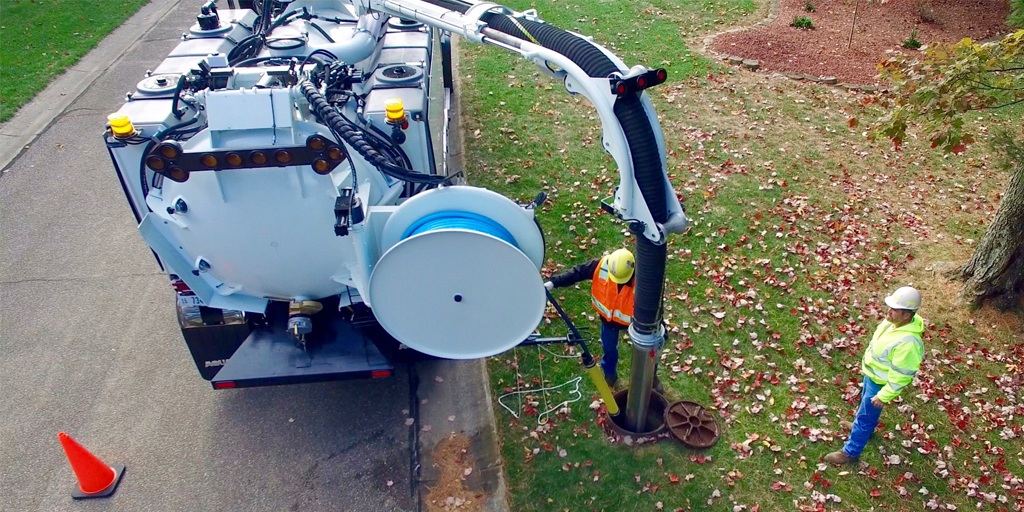 Rear-Mounted Hose Reel
Aquatech is one of the only companies that mounts their hose reel on the back of their vehicles. Other designs have the reel on the front of the truck, meaning that operators have to stand right next to the loud and hot engine. By mounting it on the back of the vehicle, it's just as safe as a front mounted variation but is also better for an operator's health and reduces operational noise during cleaning.
Full Rubber Tubing
Aquatech also included a few features that improve the longevity of parts on the vehicle. The vacuum tubes are rubber all the way up to its point of rotation above the tank. What happens with metal angled tubes is that the sediment that gets picked up at high velocity essencially sandblasts the inner corner of the bent tube and weakens the joint, requiring it to be replaced sooner than necessary. With Aquatech's rubber tube, it holds up significantly better than the metal against high-speed sand blasting.
Debris Tank Layout
When debris enters the tank, it enters from the top.This allows the debris to fall on itself instead of getting blasted at one of the walls of the tank, causing it to break down rather quickly. Because of this feature, the water and debris is stored in a way that the truck will always be horizontally balanced. When trucks have tanks that are split vertically, it causes the weight to be on one side or the other. With a horizontally split tank, the contents are always balanced, meaning the drivers aren't forced to be as worried about turning when all of the load is on one side.
If any one of these features is even remotly important to you, then consider contacting us for more information or to schedule a demonstration. We can't wait to hear from you!