FEATURES & HIGHLIGHTS
FOCUSED ON WHAT MATTERS
The Schwarze A7 Tornado is the workhorse of municipal street sweeping. At a mere 10′ overall height, it operates below the tree canopy yet exceeds the capacities of all others in its class with a 134 HP auxiliary engine, an 8.4 cubic yard hopper, 56 degree dump angle, 44″ gutter brooms, up to 600 gallon water capacity and 25% more spray nozzles.
Its Whisper Wheel 10-blade closed radial fan technology out performs all others while operating at up to 70% lower noise levels than the rest of the class. The A7 sweeps in forward or reverse without optional axle chains, hydraulically tilt dumps with no raker bar and provides 40% more screen area than its nearest competitor.
SPECIFICATIONS
SCHWARZE A7 TORNADO STREET SWEEPER AT A GLANCE
Manufacturer:
Class:
Power Source:
Cleaning Path:
Hopper Capacity:
8.4 cu yd
Sweep Method:
Regenerative Air
Maximum Speed:
Highway Speeds
Country of Origin:
Water Tank Capacity:
250 Gallons, 470-570 Gallons (SE)
Build:
Chassis-Mounted
*Exact specs may change without notice, or vary based on optional add-ons and features.
The large 4.5 cubic yard hopper dumps to a height of 77″ at 88 degrees emptying completely into standard sized dumpsters and roll off containers. Large 39″ vertical steel digger type gutter brooms are hydraulically driven with automatic wear adjustment and manual or in-cab tilt control. Air hoses are 12′ diameter, 3/8″ thick wire reinforced molded rubber with quick disconnect clamps. Dust is controlled with a 130 gallon (optional 196 gallon) water tank and electric diaphragm run-dry capable pump spray system through 12 spray nozzles.
Popular options include a lifetime warrantied stainless steel hopper, extra 350 gallon water tank, increased gutter broom usability via Gutter Broom Extension Override (GEO) and an 8′ auxiliary hand hose for cleaning tight areas. The A7 Tornado comes in a standard Twin Engine version as well as a Single Engine (SE) version. Of course, both can be customized with the options needed for your use.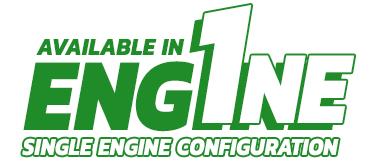 Patent Pending Single Engine (SE) Configuration
The Schwarze A7 Tornado SE has no performance compromise from its twin engine version and can perform most typical sweeping at a low single engine speeds allowing for low noise and operational costs. When full power is needed for heavy jobs like construction and spring cleanup the A7 Tornado SE comes through with the same amount of sweep power available on the twin engine A7 Tornado. Designed to operate exactly like the twin engine model, little if any additional operator and technician training is required.
SCHWARZE A7 BENEFITS
TO MAKE YOUR LIFE EASIER
Whisper Wheel 30-Inch Radial Turbine Blower
CAN Bus Control System
Rear Vision Camera System
12-Inch Intake Tubes
Full Color Sweeper Status and Information Display screen
Back Up Alarm
Extra large Rear Dump Hopper
Dual 44″-Inch Gutter Brooms
Gutterbroom Tilt
Dual Hopper Access Doors
Multi Stage Dust Separation System
---
---
DOCUMENTS
FOR THE SCHWARZE A7 TORNADO STREET SWEEPER