The Proteus CRP140 Sewer & Pipeline Crawler is a fully featured, sophisticated mid-size crawler. Motorized lift crawler for pipe diameters 5.5″ up to 24″. Add Proteus' crawler cradle to inspect pipes up to 40″.
Standard Features:
6- 3.5″ black rubber wheels
Motorized elevator (Range 54-205mm)
Articulated 'knuckle' connector
Compatible with: CAM026 Pan & Rotate, CAM026L Pan, Rotate & Laser, CAM027 Axial, CAM028 Pan, Rotate & Zoom, ALN300 Auxiliary Light, ALB300 Auxiliary Light/Backeye
Continuous monitoring of speed, internal pressure, inclination and temperature
Dual Axis Inclination Sensor
Single Auxiliary Light/Backeye Mounting
Multi-Frequency Sonde 33kHz / 512Hz / 640Hz
Steerable High Torque All-Wheel Drive
Robust Housing
1 bar Pressure Tight
Quick Change Wheel Lock
In-Built Lowering Arm
Heavy Duty Camera Connector
Protective Connector Caps, Front and Rear
Lowering Rope
Protective Carry Case
Tools
Optional Features:
Carbide & grit tread wheels
VIR Proteus Crawlers for every pipeline.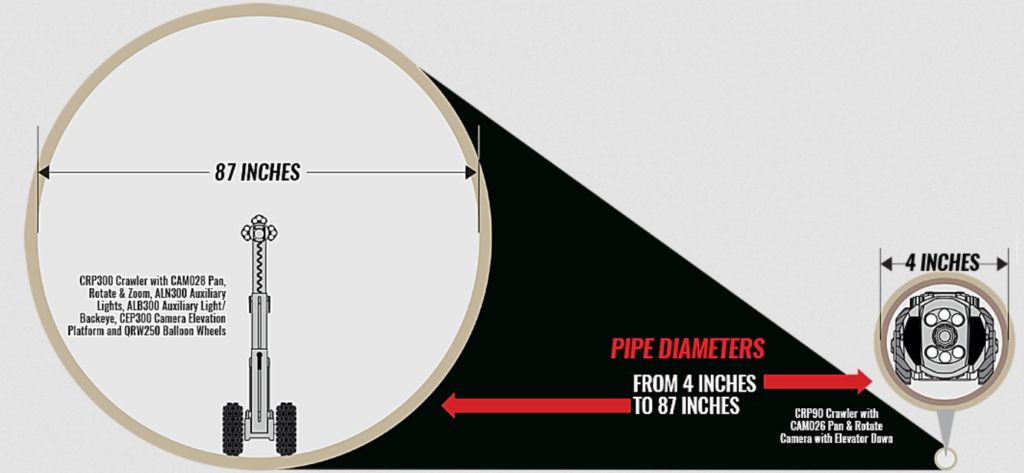 Sewer & Pipeline Crawlers
These unique tools allow operators to inspect sewers & pipelines and identify areas of those lines that may require maintenance. Your Bortek PWX experts are here to help.
Contact us today!