FEATURES & HIGHLIGHTS
FOCUSED ON WHAT MATTERS
The Armadillo 10X is powered by your choice of diesel, LPG, or gas industrial, liquid-cooled engine. With a Rotary Trash Relocator™ (RTR) system and 30 cubic foot multi-level, high dump hopper, this industrial ride-on sweeper can sweep 217,798 sq. ft. per hour and requires fewer visits to the dump site. The Armadillo 10X has a wide 72″ sweep path when equipped with the standard single side broom and 84″ when a left-hand side broom is added, which makes it the largest in its class.
The PowerBoss Armadillo 10X has a patented PowerSwing™ feature that allows the machine to be serviced easily because the engine rotates out of the machine. PowerClimb™ means the Armadillo 10X is built to handle any terrain, including curbs, speed bumps, and anywhere else ground clearance is needed. Another PowerBoss® innovation is PowerFlex™, which is a term for the patented automotive-type rear wheel suspension. By minimizing vibrations on the machine, the Armadillo's suspension yields a more comfortable ride for the operator, as well as gives the machine a longer life. For a powerful sweeping machine, rely on the PowerBoss Armadillo 10X.
SPECIFICATIONS
POWERBOSS ARMADILLO 10X SWEEPER AT A GLANCE
Manufacturer:
Class:
Turning Radius:
115"
Sweep Method:
Direct Throw
Hopper Type:
High Dump
Hopper Capacity:
30 cu ft
Hopper Load Capacity:
2,000 lbs
High-Dump Clearance:
64"
Productivity (Theoretical):
217,800 sqft
Productivity (Practical):
120,000 sqft
Size (L x W x H):
106" x 68" x 56"
Weight (w/o) Batteries:
4,575 lbs
Chassis Construction:
Steel
Country of Origin:
*Exact specs may change without notice, or vary based on optional add-ons and features.
MACHINE OVERVIEW
STANDOUT FEATURES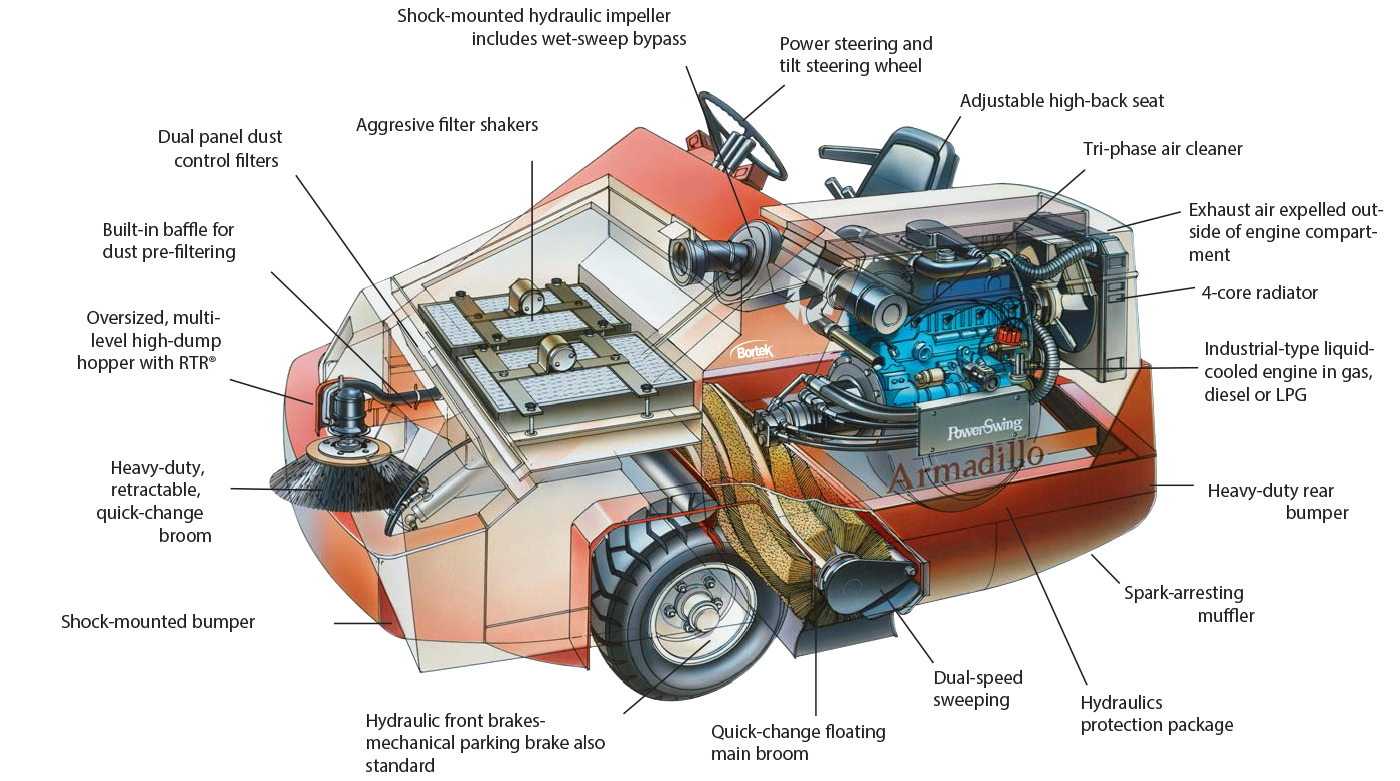 POWERBOSS ARMADILLO 10X BENEFITS
TO MAKE YOUR LIFE EASIER
Extra Wide Body Delivers High Productivity
Industrial, All-Steel Construction
Up to 84″ Sweeping path with dual side brooms
MERV-17 Filter Option for Effective Silica Dust Management
30 cubic foot multi-level, high-dump hopper
PowerSwing™ system
RTR system maximizes hopper loading
Gasoline, LP or Diesel liquid cooled engine
---
DOCUMENTS
FOR THE POWERBOSS ARMADILLO 10X SWEEPER