FEATURES & HIGHLIGHTS
FOCUSED ON WHAT MATTERS
Aquatech Sewer Cleaning Trucks are user-friendly but also tough enough to tackle any application. These Jet/Vac Combination units use high-pressure water jetting combined with a high-flow vacuum source to clean out pipes and sewers and then vacuum up the material, which returns and maintains normal sewer flow.
SPECIFICATIONS
AQUATECH® B-SERIES JET/VAC TRUCK AT A GLANCE
Manufacturer:
Power Source:
Country of Origin:
Blower Performance:
27" Hg, 3,670-6, 100 CFM
Boom Articulation:
360 Degrees
Hose Reel Capacity:
Up to 1,100ft of 1″ hose
Hose Reel Mount:
Rear
Water Pump Performance:
150 GPM
Debris Tank Capacity:
Water Tank Capacity:
570-1,750 Gallons
Build:
Chassis-Mounted
*Exact specs may change without notice, or vary based on optional add-ons and features.
We offer two different reel design options. The B-Series features the reel mounted on the rear of the truck, which reduces heat and noise for the operator and is ergonomically beneficial. The F-Series is the more conventional, yet less-than-ideal, front-mounted design. Multiple sizes of debris and water capacities combined with various water and vacuum pump options allow customers to custom fit an Aquatech unit to any application.
AQUATECH B-SERIES' REEL BENEFITS
TO MAKE YOUR LIFE EASIER
Advantage: The rear-mounted hose reel design with 180° hydraulic articulation takes the operator off of the street and away from traffic.
Reach: The rear-mounted hose reel puts more useable power in the hands of the operator with reach beyond the truck's width and a 12′ work radius.
View: An unobstructed, 270° view provides a far-safer field of vision for the driver.
---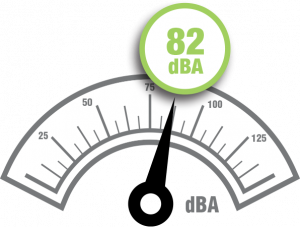 The Noise Pollution Solution: The rear-mounted hose reel operating position means less vibration, less heat, and 2× to 4× less noise than front-reel systems for reduced operator fatigue and increased safety.
Meets or exceeds OSHA requirements with industry's lowest dBA of 82 or less at the hose reel, eliminating the need for bulky ear protection.
Blows Everything Else Away: A high-performance 27″ Hg blower is the most powerful in the industry for faster, more efficient vacuum loading.
Power Equals Productivity: The ultimate, get-in, get-out vacuum power and performance to make quick work of tough projects.
Power Without Problems: The horizontal transfer case drive delivers quiet, consistent power with fewer parts and is virtually maintenance-free for less downtime.
Pressure with Precision: A triplex pump design allows smooth, constant pressure with an efficient, reliable drive up to 150 GPM.
---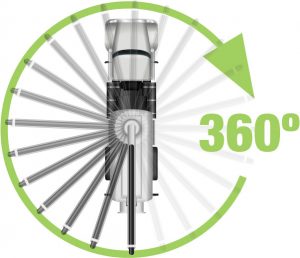 Freedom of Flexibility: The top-loading boom and one-piece vacuum hose provide unlimited 360° operation. Industry-leading flexibility means safe, easy placement of the unit regardless of the manhole or excavation location.
Maximum Capacity: Top-mounted boom design provides optimum load distribution and more usable payload capacity without hose bends that clog and wear.
Capacity Meets Veracity: The industry's only ASME-certified 6-15 cubic yard debris tank. Water tank capacity from 575-1,700 gallons.
---
← Take a Look Inside the Cab →
---
DOCUMENTS
FOR THE AQUATECH® B-SERIES JET/VAC TRUCK