The global leader in combination jetting and vacuum systems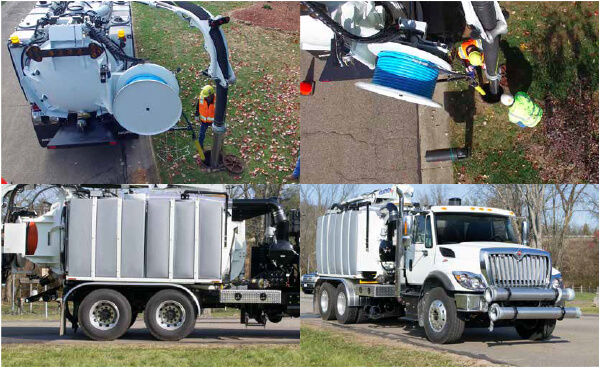 Aquatech's combination jet/vac sewer cleaning vehicles offer a variety of sizes of debris and water capacity, and customizations, making them ideal for any size municipality, water and sewer district, or contractor.
Their applications include cleaning storm drains, catch basins, sanitary and storm sewers, as well as water leak repair, emergency excavation, and sewer line bypass for sewer repair, relining, or replacement work. Not only that, but Aquatech pushes industry standards to improve with rear-mounted reels. Front-mounted reels are, of course, also available.
---
Do you need maintenance for your Aquatech equipment? Bortek Industries can do that! For over 50 years, our service technicians have been helping the cleaning industry keep their machines running at peak performance. From large industrial ride-on sweepers to small, walk-behind scrubbers, we can service them all. No matter what the problem, we have the know-how to fix it. Keep your cleaning equipment at the peak of productivity with the help of our expert mobile service technicians; contact Bortek Industries to schedule maintenance for your machine today. We also offer Planned Maintenance so that you're new machine can stay in top shape with regular tune-ups.
Through no fault of yours or the machine, certain parts will become worn and need to be replaced from regular use. Bortek carries a complete line of replacement parts for your cleaning equipment for all the major brands, including Aquatech. We highly recommend keeping replacement wearable parts on hand to keep your machine cleaning at its best at all times. Failing to routinely replace worn parts can lead to more serious issues.
Our technicians are factory-trained cleaning machine specialists. Whether your machine needs a tune-up or more serious repair, we can get it done. You can trust Bortek to know your equipment and identify problems without wasting resources on unnecessary parts replacements.
---
Aquatech Machines Proudly Manufactured in the USA
Aquatech Sewer Cleaning Trucks are both user-friendly and tough enough to tackle any application. These Combination Jet/Vac vehicles use high-pressure water jetting combined with a high-flow vacuum source to clean out pipes and sewers and then vacuum up the material, which returns and maintains normal sewer flow. The water jetter and vacuum blower on these machines are powerful enough that they can also be used for hydro excavation. Two in one, baby!