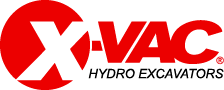 The Best Underground Excavation Solution For Contractors & Municipalities
X-Vac is a global leader in innovative vacuum excavation systems providing a proven, non-destructive method to excavate underground areas. For over 30 years, X-Vac has provided leading hydro excavation trucks tailored for the demands of specialty contractors and municipalities throughout the world. X-Vac vacuum excavators are designed by industry experts to provide unsurpassed performance for a wide range of excavating applications, including excavation of soil and rock while carefully locating and exposing underground utility systems. X-Vac offers engineering support to customize vacuum excavation equipment and systems to meet the most demanding applications. Their philosophy is to provide the highest quality, most reliable hydro excavation equipment, and an unending focus on customer satisfaction and value.
Do you need maintenance for your X-Vac equipment? Bortek Industries can do that! For over 50 years, our service technicians have been helping the cleaning industry keep their machines running at peak performance. From large municipal street sweepers to small, walk-behind scrubbers, we can service them all. No matter what the problem, we have the know-how to fix it. Keep your hydro excavator at the peak of productivity with the help of our expert mobile service technicians; contact Bortek Industries to schedule maintenance for your machine today. We also offer Planned Maintenance so that you're new machine can stay in top shape with regular tune-ups.
Through no fault of yours or the machine, certain parts will become worn and need to be replaced from regular use. Bortek carries a complete line of replacement parts for your cleaning equipment for all the major brands, including X-Vac. We highly recommend keeping replacement wearable parts on hand to keep your machine cleaning at its best at all times. Failing to routinely replace worn parts can lead to more serious issues.
Our technicians are factory-trained cleaning machine specialists. Whether your machine needs a tune-up or more serious repair, we can get it done. You can trust Bortek to know your equipment and identify problems without wasting resources on unnecessary parts replacements.
---
X-Vac Hydro Excavators Proudly Manufactured in the USA
X-12 Hydro Excavator Trucks use state-of-the-art water pump and vacuum technology to safely locate and expose any type or size of underground utilities. Soil, sand and rock are quickly, safely and neatly excavated. Risk of underground utility strikes is virtually eliminated. The re-circulation system of X-Vac hydro trucks keeps heated water moving continuously to prevent freezing in cold temperatures. X-Vac's Hydro Excavator Trucks are precision-engineered so that air and water volumes can be independently controlled to provide the ideal mix for any application.