Now Providing Public Works Equipment in West Virginia
For over 50 years, we've enjoyed helping to solve our customers' cleaning needs throughout the northeast. Now, we at Bortek are excited to extend our coverage into West Virginia with our varied selection of sewer jet/vac vehicles, hydro excavators, and street sweepers available to buy or rent.
We realize that there is a need in this area for rentals of sewer cleaning trucks and street sweepers, perhaps due to wide rural areas between cities. We hope to fill that void and make rental municipal and public works equipment more available throughout the state of West Virginia.
West Virginia Sewer Care
We've seen the news. Sewer clogs, backups, and overflows aren't uncommon. All over, old sewer system pipes are falling into disrepair from roots or natural deterioration. There have been reports of raw sewage overflowing into drainage ditches and streams in Wetzel County 1, and questionable drinking water in Wyoming County as a result of sewer system needs 2.
Fortunately, municipalities are aware of the problem, and many towns and cities have been working on repairing and upgrading their sewer systems. It's a big job over a wide area, but we'd like to help by providing some of the best sewer equipment in the industry. Our Super Products Sewer Cleaner Jet/Vac Vehicles are able to clear out obstructions in pipes and suck up backed up sewage and storm water. While Camel Max Series Hydro Excavators are also available for purchase, our rental Aquatech B-10 Jet/Vac is even powerful enough for hydro excavation if necessary. This allows for precise digging around buried utilities and pipes without risking damage to them. Once exposed, pipes and utilities can be easily repaired or replaced, and you won't have to deal with all the backfilling of traditional excavation equipment.
Some of our claims to fame with the Super Products sewer cleaning vehicles are their advanced technology which makes them easy to operate and diagnose any problems during setup or use. For more accessibility, the hose reel can swing out, and the suction tube comes with plenty of extensions, and is on a boom with 270 degree rotation. And, as previously stated, our rental units in particular are capable of hydro excavation as well. Aquatech vehicles use powerful vacuum blowers with up to 4000 CFM operating capacity and 204″ water column, and their water jetters can cut through earth with up to 80GPM at 2500psi.
Bortek is currently equipped to provide public works equipment solutions to all counties and cities in West Virginia, including Charleston, Morgantown, and Parkersburg.
Buy, Rent, Service – Street Sweepers & Sewer Cleaning Equipment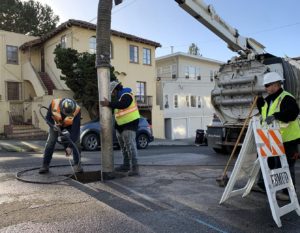 No matter your situation, we hope to meet your needs with both perfectly appropriate equipment, and the best-suited rental or purchasing options. Our rentals are available for a range of short-term and long-term periods to match your project length. We're proud to provide only the best rental equipment: recent models that are maintained in-house by our factory-trained technicians.
For those looking to invest in the purchase of a new sewer jet/vac vehicle or street sweeper, we are able to deliver a multitude of options and customization so that you get exactly what you need for your unique problems, and none of what you don't need. Our sales representatives have seen all kinds of situations – from bike lane sweeping to loading docks flooded with storm water. They'll be able to check out your situation and help you find the best tool for the job. Then, let us show you in person how our equipment can deliver on its promises.
Bortek's customer care doesn't end with providing new equipment. We're also your resource for replacement wearable parts, regular maintenance, and other machine servicing. We stand by our equipment with competitive warranties, so you can buy with confidence.
Get a Free Quote or Demo
We're not just saying all this. We're confident that we have what it takes to help, and do it better than the competition. We invite you to check out our offerings of public works equipment throughout the site.
For more info, contact us! We're looking forward to hearing from you.
Call: (800) 626-7835 (Business hours: 8am – 4:30pm Monday-Friday)
Email: contact@bortekpwx.com
Online: Contact Form
Rentals: Street Sweeper, Sewer Jet/Vac, Hydro Excavator Rentals
---
1. "Pine Grove Sewage Problems Continue" – Wetzel Chronicle
2. "Southern WV residents wary of water's health effects" – Charleston Gazette-Mail