The PowerBoss Admiral 48 Sweeper/Scrubber isn't just another rider cleaning machine with wider coverage; it's bringing you more options with its epic cleaning. Unlike many sweeper/scrubbers which always scrub and sweep at once, the Admiral 48's design allows for scrubbing or sweeping – and, of course, both at once. With one pass of the machine, you can perform three functions: pre-sweeping, wet scrubbing, and dry vacuuming. First, the machine sweeps up any fine or coarse dirt with its two independent, dust-controlled .82 HP vacuum motors. Then, three disc brushes vigorously scrub away even the most stubborn dirt. Finally, the parabolic squeegee vacuums, leaving the floor dry enough to walk on.
With an 82 gallon tank and water/chemical-retaining Aqua-Stop System, the Admiral 48 brings a high level of chemical efficiency. The recovery tank features a large opening for easy cleaning. For that matter, the sweeper portion's hopper on the front can be easily removed and emptied tool-free as well.
The 36V battery can last up to one shift, and an optional case battery and charger are available for extended runtime if necessary. Thanks to its battery power, this sweeper/scrubber gives an impressively quiet ride and eliminates concerns of exhaust. As an additional safety feature, the machine is automatically inoperable when charging – you can't mess it up!
Driving the Admiral 48 is the next best thing to sinking into your own couch after a good day of hard work. It's easy to get on from either side and has a comfy, fully-sprung driver's seat which can be adjusted to the driver's weight. All of the operating controls are in plain view, with user-friendly labels. Maneuverability is also a breeze: it's got a tight turn radius, can climb grades of up to 20%, and provides unobstructed visibility.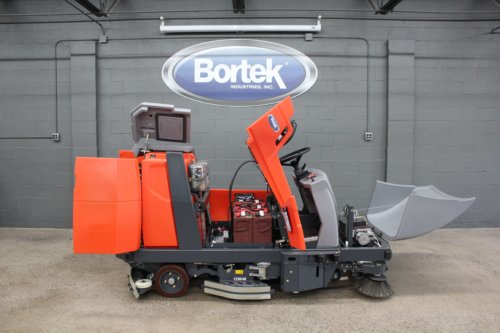 And holy moly, is this sweeper/scrubber accessible for servicing! If you've experienced PowerBoss cleaning equipment before, you know that there are tool-free panels everywhere to give access to every component you could ever wish to tinker with. It's the same deal with the Admiral 48; virtually every surface of the machine can be effortlessly flipped open to reveal its exceedingly accessible innards. Even I could figure it out, and I'm the computer guy.
If you're looking for a cleaning machine with a wide cleaning path and all-in-one scrubbing and sweeping options, you can't go wrong with the Admiral 48 Rider Sweeper/Scrubber.