FEATURES & HIGHLIGHTS
FOCUSED ON WHAT MATTERS
Get industrial-grade, consistent cleaning with the phenomenal Factory Cat XR Rider Scrubber. Ergonomics, quality components, reliability, and, most importantly, RESULTS are what this machine is all about. With large, 68 gallon tanks, up to a 46″ cleaning path, and an insane amount of attention to detail, you'll be proud to have this machine as part of your facility's cleaning program.
SPECIFICATIONS
FACTORY CAT XR SERIES SCRUBBERS AT A GLANCE
Manufacturer:
Class:
Run Time:
Up To 5.0 Hours Battery Life
Solution Tank Capacity:
Recovery Tank Capacity:
Productivity (Theoretical):
49,587 sqft
Productivity (Practical):
22,989 sqft
Size (L x W x H):
69″ x 36″ x 56"
Weight (w/o) Batteries:
1,200 – 1,250 lbs
System Voltage:
36 VDC
Standard Battery:
325 ah WET
Power:
3.0 hp
Tank Material:
Poly 3/8"
Country of Origin:
*Exact specs may change without notice, or vary based on optional add-ons and features.
MACHINE OVERVIEW
STANDOUT FEATURES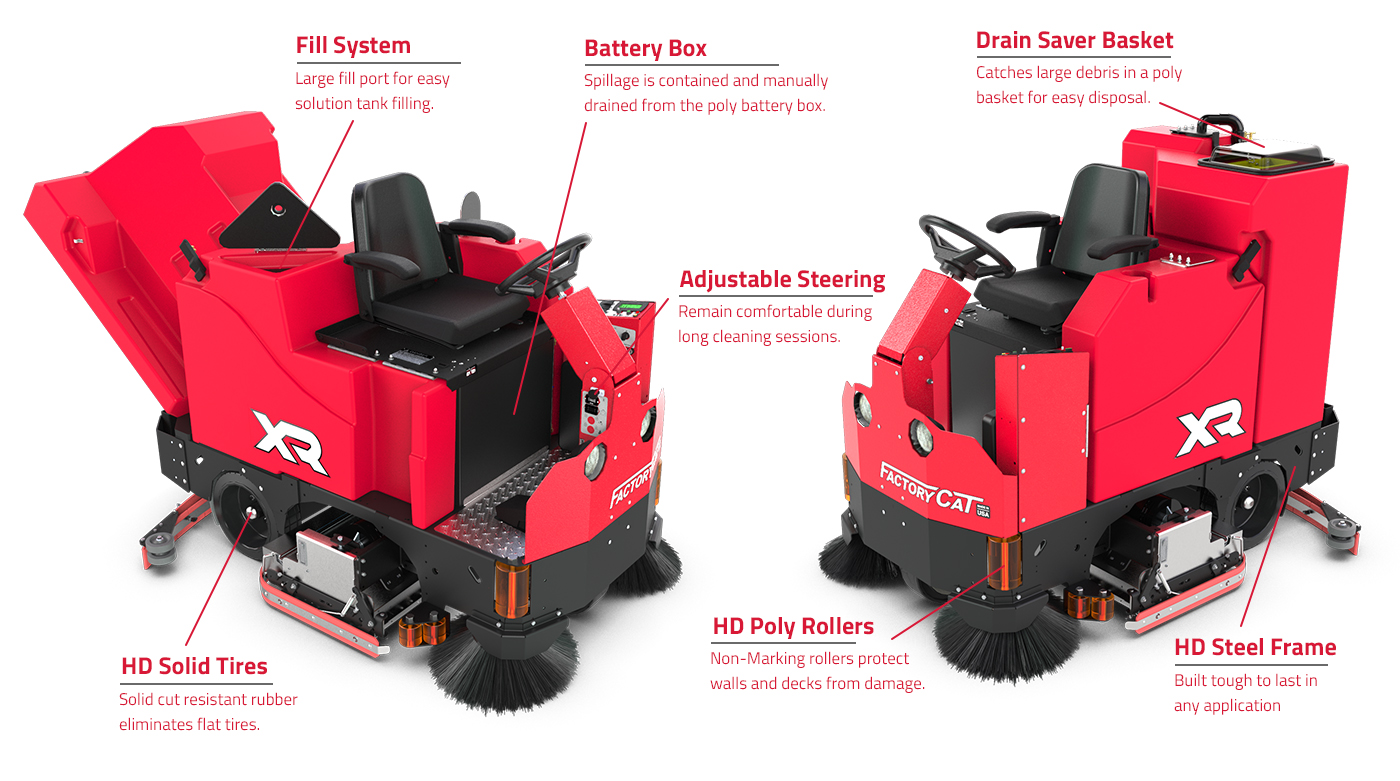 FACTORY CAT XR BENEFITS
TO MAKE YOUR LIFE EASIER
Large 68-gallon tanks increase productivity
Wide tires provide good traction and stability
Massive steel frame
Ergonomic design
Drain saver keeps debris out of drains
Dual side brooms clean under racking
Adjustable seat and steering for operator comfort
Can reach speeds up to 49,680 sq. ft. per hr.
Tank tips back for easy servicing
Highly maneuverable – U-turns in 76″
Powerful motors provide superior cleaning
Heavy-duty steel frame
Click to Compare Productivity to Your Current Cleaning Method!
---
DOCUMENTS
FOR THE FACTORY CAT XR SERIES SCRUBBERS