KEY FEATURES AND BENEFITS
Quickly connect to any existing pressure washing system with pressures up to 5,500psi (379bar) and temperatures up to 200˚F (93˚C) to add the CYCLONE difference to your current cleaning system.
Up to 10,000ft² per hour (929m²) of environmentally friendly chemical free cleaning with instant waste water recovery at the Cyclone CY210 head without the use of an external vacuum system to eliminate water runoff and pooling.
Integrated LED headlight for high visibility improving production and consistency in dimly lit spaces and night time cleaning.
Maneuverable design to accommodate hard to reach areas increasing operator productivity and ease of use.
IDEAL APPLICATIONS
Coated Surfaces
Porous/Pervious Asphalt and Concrete
Asphalt
Pavers
Running Tracks
Tennis Courts
Parking Garages
Brick
Stone
Elastomeric Coating
Thermoplastic Markings
Cyclone TR5000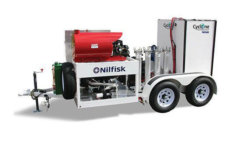 Technical Specifications
| | |
| --- | --- |
| Water Capacity | 330gal. fresh |
| Wastewater Recovery Tank | Separate tank for recovery |
| Pressure Pump | 3,600psi @ 5GPM (248bar @ 18.9LPM) / Giant Pump |
| Power Source | Kohler Pro Series 2-cylinder, gasoline, electric start |
| Fuel Tanks | Gasoline / Diesel |
| Run Time | Without recycling – 1 hour |
| Productivity | Up to 10,000 ft2 per hour |
| Pressure Lance | Standard |
| Pressure Hose | 50ft standard for both supply and recovery |
| Heater | Diesel-fired burner standard for water heated up to 160°F (71°C) |
| Trailer Dimensions (L x W x H) | 174in. x 82in. x 77in. |
| Trailer Load Rating | 7,000lbs. capacity with dual-torsion-bar axle |
| Trailer Walk-Behind Loading System | Winch auto load system with pivoting ramp |
| Trailer Braking | Electric brakes |
| Running and Brake Lights | High-visibility LED |
| Taillight Electrical Connection | 7 pin round |
| Trailer Ball | 2 5/16in. |
| Tires | 15in. 225/75R15 Transmaster |
| Weight with CY210 full of water | 6052lbs. |
| Weight with CY210 empty | 3,300lbs. |
Cyclone CY210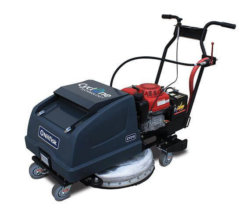 Technical Specifications
| | |
| --- | --- |
| Cleaning Path | 18in. |
| Input Pressure | Up to 5,500psi |
| Pump Recommendations | Minimum: 2000psi at 4GPM (137.9bar at 15.1LPM) |
| Input Temperature | Up too 200°F (93°C) |
| Power Source | Honda gasoline with electric start |
| Pressure Connections | Supply: 3/8in. male quick connect / Recovery: 1in. cam lock |
| Spray Tips | 2 spray tips protected by vented plate |
| Battery | 12V for starting |
| Weight | 410lbs. |
| Dimensions (L x W x H) | 68in. x 35in. x 42in. |
Cyclone SK (Truck Mounted System; CY210 Standard)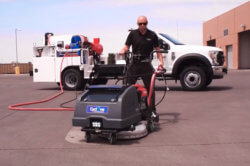 Technical Specifications
| | |
| --- | --- |
| Water Capacity | 420gal. (1,589.9L) Combination |
| Wastewater Recovery Tank | Fiberglass with Patented Internal Separation Baffles Easy Clean Out Tanks with Top Cap Access and 3in. (0.08m) drains |
| Filtration | (2) 75micron and (2) 30micron / Stainless Steel, Fully cleanable and Reusable |
| Pressure Pump | 3,600psi @ 6GPM (248bar @ 22.7LPM) / Giant Pump |
| Power Source | Base Chassis Power Take Off |
| Fuel Tanks | Gasoline / Diesel |
| Run Time | Up to 6 Hours (Application-Dependent) |
| Productivity | Up to 12,000ft2 / per hour (929m2/per hour) |
| Pressure Lance | Standard 36″ Length |
| Pressure Hose | 100ft. (15.24m) Standard for Both Supply and Recovery / Optional lengths available |
| Heater | Diesel-Fired Burner Standard for Water Heated up to 160oF (71oC) |
| Chassis | Third Party Chassis Available (Ford F-450 Shown in picture) |
| – Dimensions (L x W x H) | 23ft x 7ft8in. x 7ft.6in. (7m x 2.33m x 2.28m) (LxWxH) |
| – Walk-Behind Loading System | Side Mounted Liftgate with Winch System |
| Weight | |
| – Full of Water with CY210 | 15,500 lbs. (7030kg) |
| – Empty with CY210 | 12,000 lbs. (5443kg) |