Thanks to significant funding from New Jersey's involvement in the Regional Greenhouse Gas Initiative (RGGI) ($80 million per year) and the Volkswagen Mitigation Trust Funds ($72.2 million awarded to New Jersey), governor Phil Murphy has announced an investment of over $100 million into pursuing clean vehicles and transportation. Combine that with the availability of national and state grants from the Diesel Emissions Reduction Act (DERA) and New Jersey finds itself positioned as a leader in the adoption of green transportation. The goals are 100% clean energy by 2050, improved air quality, and a reduction of the effects of climate change.
So far, the funding has been used to build electric vehicle charging infrastructure and to replace or upgrade buses, garbage trucks, freight trucks, and drayage trucks to electric models. The majority of the results have been seen in Newark and its surrounding area and Northeastern New Jersey, with a high focus on cleaning up emissions due to cargo transportation in ports. Funding has not yet been used for electric street sweepers in New Jersey, but the Chicago Deptartment of Transportation was able to secure funding through DERA in 2020 for low NOx compressed natural gas sweepers, which shows that there is government support for cleaner street sweepers. As of this posting, DERA funding requests for 2021 can be submitted via this page on epa.gov.
We reached out to New Jersey Department of Environmental Protection and were informed that interested parties can sign up on these listservs (here and here) to be notified when the next solicitations for funding are made available. When we asked specifically about the eligibility of electric street sweepers, we were told that they "will continue to focus on electrification of medium and heavy weight vehicles in urban areas", so we'll take that as a good sign.
With the charging infrastructure in place and so much funding available, there is no better time than now for New Jersey municipalities to get in on fully electric street sweepers.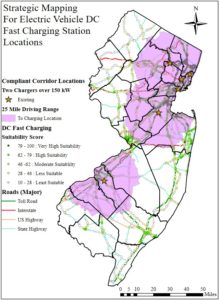 Electric Street Sweepers on the Market
Leading the industry on electric sweeping are Global Industrial and Dulevo International.
The Dzero2 Electric Mini Sweeper from Dulevo provides a compact sweeping option that's ideal for cities and college campuses with narrow roads or pedestrian paths. The Dzero2 is also completely electric and able to claim Zero Emissions. It also looks pretty snazzy.
These sweepers aren't just barely-announced, coming-soon technologies. They're available to buy now and free demonstrations may be available for those who are interested.
With electric vehicles now a viable option for both everyday use and for municipal / public works use, the future is looking brighter – and greener.