O'Brien
Professional Grade Hydro-Jetting & Vacuum Equipment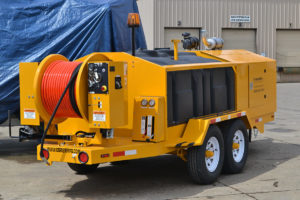 O'Brien equipment has operational cost efficiency built in, resulting in an industry leading return on investment – not to mention maximum safety and ease-of-operation.
O'Brien's unique modular design concepts and integrated manufactured trailer design deliver reliability and ease of maintenance not found elsewhere. All O'Brien systems can be customized, providing a wide range of option packages to meet the specific requirements of our customers. A full range of accessories are also available specifically designed for your application and matched to our equipment specifications.
At the heart of every O'Brien product is the know-how and expertise developed over decades of sewer and sanitary system maintenance projects. By combining the best quality pumps, components, engines, and controls with the highest manufacturing and quality standards, O'Brien produces the very best equipment each and every time.
O'Brien Hydro Jetters Proudly Manufactured in the USA
No products were found matching your selection.