Global
Overview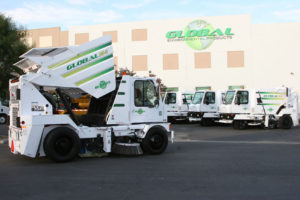 Global Environmental Products is a well-regarded producer of specialized street cleaning equipment. They are headquartered in San Bernardino, CA and make all of their street sweepers in the USA – so you can count on their sweepers meeting and exceeding high American standards.
Claims to Fame
Low Operation Costs
The street sweepers produced by Global are intelligently designed for ease-of-use and high efficiency. Not only will many of these sweepers bring savings with impressive fuel efficiency, but they're great for low maintenance costs as well, thanks to their built-to-last designs and parts.
Accessibility
Those low maintenance costs aren't just from durable parts! Global designs their sweepers to be easily accessible for maintenance and repair. Pumps, filters, and hydraulic hoses are easy to get to, making repairs and tune-ups a breeze. That means you can get back on the road quickly and avoid trouble in the first place thanks to the ease of regular maintenance.
Specialization
Everyone's needs are a little different. That's why Global's street sweepers offer lots of customization options. Get what you need, skip what you don't.
No products were found matching your selection.